An antiproton is an antiparticle to a proton. The proton has positive charge while an antiproton has negative charge and therefore they attract each other. Periodic Table
Antiproton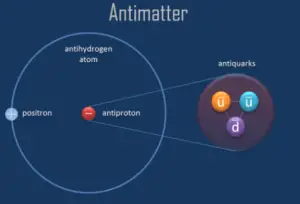 As was written, a particle and its antiparticle have the same mass as one another, but opposite electric charge, and other differences in quantum numbers. That means a proton has positive charge while an antiproton has negative charge and therefore they attract each other. A collision between any particle and its antiparticle partner is known to lead to their mutual annihilation. Since matter and antimatter carry an immense amount of energy (due to E = mc2), their mutual annihilation is associated with production of intense photons (gamma rays), neutrinos, and sometimes less-massive particle–antiparticle pairs.
See also: Antimatter
We hope, this article, Antiproton, helps you. If so, give us a like in the sidebar. Main purpose of this website is to help the public to learn some interesting and important information about radiation and dosimeters.