Quarks and electrons are some of the elementary particles. A number of fundamental particles have been discovered in various experiments. Electrons in the Standard Model
Electrons in the Standard Model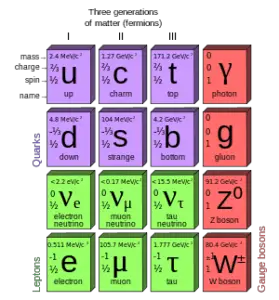 Quarks and electrons are some of the elementary particles. A number of fundamental particles have been discovered in various experiments. So many, that researchers had to organize them, just like Mendeleev did with his periodic table. This is summarized in a theoretical model (concerning the electromagnetic, weak, and strong nuclear interactions) called the Standard Model. In particle physics, an elementary particle or fundamental particle is a particle whose substructure is unknown, thus it is unknown whether it is composed of other particles.
In the present Standard Model, there are six "flavors" of quarks, six quarks, just as there are six leptons based on a presumed symmetry in nature.
We hope, this article, Electron in the Standard Model, helps you. If so, give us a like in the sidebar. Main purpose of this website is to help the public to learn some interesting and important information about radiation and dosimeters.