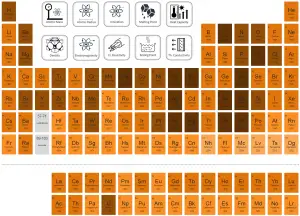 Boron – Discoverer – Year of Discovery
Discoverer of Boron – Davy, Sir Humphry & Thénard, Louis-Jaques & Gay-Lussac, Louis-Joseph.
Boron was discovered in 1808.
Boron is a chemical element with atomic number 5 which means there are 5 protons and 5 electrons in the atomic structure. The chemical symbol for Boron is B.
Significant concentrations of boron occur on the Earth in compounds known as the borate minerals. There are over 100 different borate minerals, but the most common are: borax, kernite, ulexite etc. Natural boron consists primarily of two stable isotopes, 11B (80.1%) and 10B (19.9%). In nuclear industry boron is commonly used as a neutron absorber due to the high neutron cross-section of isotope 10B. Its (n,alpha) reaction cross-section for thermal neutrons is about 3840 barns (for 0.025 eV neutron). Isotope 11B has absorption cross-section for thermal neutrons about 0.005 barns (for 0.025 eV neutron). Most of (n,alpha) reactions of thermal neutrons are 10B(n,alpha)7Li reactions accompanied by 0.48 MeV gamma emission.
–