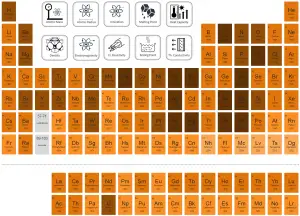 Caesium – Discoverer – Year of Discovery
Discoverer of Caesium – Kirchhoff, Gustav & Bunsen, Robert.
Caesium was discovered in 1860.
Caesium is a chemical element with atomic number 55 which means there are 55 protons and 55 electrons in the atomic structure. The chemical symbol for Caesium is Cs.
Caesium is a soft, silvery-gold alkali metal with a melting point of 28.5 °C, which makes it one of only five elemental metals that are liquid at or near room temperature. Caesium has physical and chemical properties similar to those of rubidium and potassium.
–