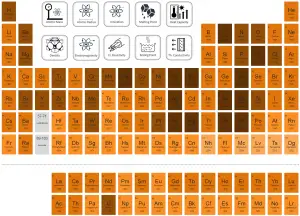 Hafnium – Discoverer – Year of Discovery
Discoverer of Hafnium – Coster, Dirk & De Hevesy, George Charles.
Hafnium was discovered in 1923.
Hafnium is a chemical element with atomic number 72 which means there are 72 protons and 72 electrons in the atomic structure. The chemical symbol for Hafnium is Hf.
Hafnium is a lustrous, silvery gray, tetravalent transition metal, hafnium chemically resembles zirconium and is found in many zirconium minerals. Hafnium's large neutron capture cross-section makes it a good material for neutron absorption in control rods in nuclear power plants, but at the same time requires that it be removed from the neutron-transparent corrosion-resistant zirconium alloys used in nuclear reactors.
–