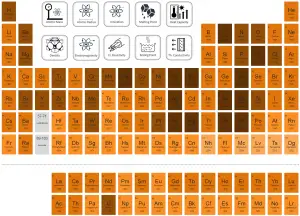 Samarium – Discoverer – Year of Discovery
Discoverer of Samarium – Lecoq de Boisbaudran, Paul-Émile.
Samarium was discovered in 1879.
Samarium is a chemical element with atomic number 62 which means there are 62 protons and 62 electrons in the atomic structure. The chemical symbol for Samarium is Sm.
Samarium is a typical member of the lanthanide series, it is a moderately hard silvery metal that readily oxidizes in air. The name samarium is after the mineral samarskite from which it was isolated. Although classified as a rare earth element, samarium is the 40th most abundant element in the Earth's crust and is more common than such metals as tin. In nuclear industry, especially natural and artificial samarium 149 has an important impact on the operation of a nuclear reactor. Samarium 149 has a very large neutron capture cross-section (about 42,000 barns). Since natural samarium contains about 14% of 149Sm, it can be used as an absorbing material in control rods.
–