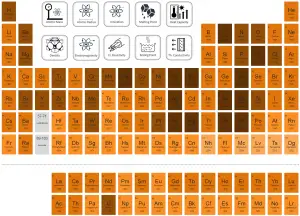 Tellurium – Discoverer – Year of Discovery
Discoverer of Tellurium – Müller von Reichenstein, Franz Joseph.
Tellurium was discovered in 1782.
Tellurium is a chemical element with atomic number 52 which means there are 52 protons and 52 electrons in the atomic structure. The chemical symbol for Tellurium is Te.
Tellurium is a brittle, mildly toxic, rare, silver-white metalloid. Tellurium is chemically related to selenium and sulfur. It is occasionally found in native form as elemental crystals. Tellurium is far more common in the universe as a whole than on Earth. Its extreme rarity in the Earth's crust, comparable to that of platinum.
–