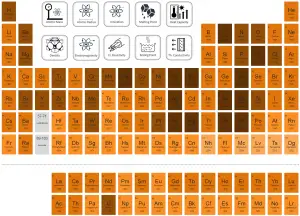 Titanium – Discoverer – Year of Discovery
Discoverer of Titanium – Gregor, William.
Titanium was discovered in 1791.
Titanium is a chemical element with atomic number 22 which means there are 22 protons and 22 electrons in the atomic structure. The chemical symbol for Titanium is Ti.
Titanium is a lustrous transition metal with a silver color, low density, and high strength. Titanium is resistant to corrosion in sea water, aqua regia, and chlorine. Titanium can be used in surface condensers. These condensers use tubes that are usually made of stainless steel, copper alloys, or titanium depending on several selection criteria (such as thermal conductivity or corrosion resistance). Titanium condenser tubes are usually the best technical choice, however titanium is very expensive material and the use of titanium condenser tubes is associated with very high initial costs.
–