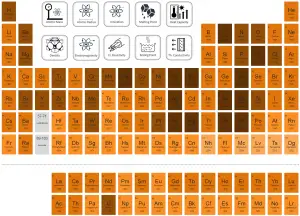 Uranium – Discoverer – Year of Discovery
Discoverer of Uranium – Klaproth, Martin Heinrich.
Uranium was discovered in 1789.
Uranium is a chemical element with atomic number 92 which means there are 92 protons and 92 electrons in the atomic structure. The chemical symbol for Uranium is U.
Uranium is a silvery-white metal in the actinide series of the periodic table. Uranium is weakly radioactive because all isotopes of uranium are unstable, with half-lives varying between 159,200 years and 4.5 billion years. Uranium has the highest atomic weight of the primordially occurring elements. Its density is about 70% higher than that of lead, and slightly lower than that of gold or tungsten. Uranium is commonly found at low levels (a few ppm – parts per million) in all rocks, soil, water, plants, and animals (including humans). Uranium occurs also in seawater, and can be recovered from the ocean water. Significant concentrations of uranium occur in some substances such as uraninite (the most common uranium ore), phosphate rock deposits, and other minerals.
–