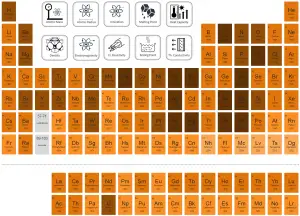 Xenon – Discoverer – Year of Discovery
Discoverer of Xenon – Ramsay, William & Travers, Morris William.
Xenon was discovered in 1898.
Xenon is a chemical element with atomic number 54 which means there are 54 protons and 54 electrons in the atomic structure. The chemical symbol for Xenon is Xe.
Xenon is a colorless, dense, odorless noble gas found in the Earth's atmosphere in trace amounts.[10] Although generally unreactive, xenon can undergo a few chemical reactions. Xenon was first discovered in 1898 by the Scottish chemist William Ramsay and English chemist Morris Travers. The name xenon for this gas comes from the Greek word ξένον [xenon], neuter singular form of ξένος [xenos], meaning 'foreign(er)', 'strange(r)', or 'guest'. In nuclear industry, especially artificial xenon 135 has a tremendous impact on the operation of a nuclear reactor. For physicists and for reactor operators, it is important to understand the mechanisms that produce and remove xenon from the reactor to predict how the reactor will respond following changes in power level.
–