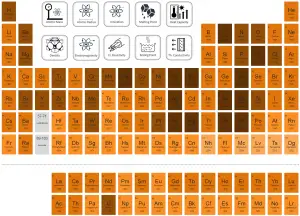 Zirconium – Discoverer – Year of Discovery
Discoverer of Zirconium – Klaproth, Martin Heinrich.
Zirconium was discovered in 1789.
Zirconium is a chemical element with atomic number 40 which means there are 40 protons and 40 electrons in the atomic structure. The chemical symbol for Zirconium is Zr.
Zirconium is a lustrous, grey-white, strong transition metal that resembles hafnium and, to a lesser extent, titanium. Zirconium is mainly used as a refractory and opacifier, although small amounts are used as an alloying agent for its strong resistance to corrosion. Zirconium is widely used as a cladding for nuclear reactor fuels. The desired properties of these alloys are a low neutron-capture cross-section and resistance to corrosion under normal service conditions.
–