Chemical Symbol for Beryllium
Beryllium is a chemical element with atomic number 4 which means there are 4 protons and 4 electrons in the atomic structure. The chemical symbol for Beryllium is Be.
Beryllium is a hard, grayish metal naturally found in mineral rocks, coal, soil, and volcanic dust. The commercial use of beryllium requires the use of appropriate dust control equipment and industrial controls at all times because of the toxicity of inhaled beryllium-containing dusts that can cause a chronic life-threatening allergic disease in some people called berylliosis. Beryllium has a large scattering cross section for high-energy neutrons, about 6 barns for energies above approximately 10 keV. Therefore, it works as a neutron reflector and neutron moderator, effectively slowing the neutrons to the thermal energy. Since berylium has very low threshold energy for neutron emission, it can be used as a neutron source in nuclear reactors. The Sb-Be source is based on (γ,n) reaction (i.e. it emits photoneutrons).
Atomic Number of Beryllium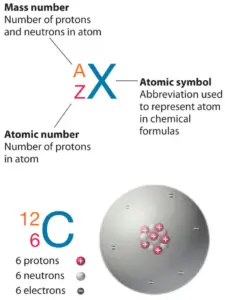 The atom consist of a small but massive nucleus surrounded by a cloud of rapidly moving electrons. The nucleus is composed of protons and neutrons. Total number of protons in the nucleus is called the atomic number of the atom and is given the symbol Z. The total electrical charge of the nucleus is therefore +Ze, where e (elementary charge) equals to 1,602 x 10-19 coulombs. In a neutral atom there are as many electrons as protons moving about nucleus. It is the electrons that are responsible for the chemical bavavior of atoms, and which identify the various chemical elements.
See also: Atomic Number – Does it conserve in a nuclear reaction?
Atomic Number and Chemical Properties
Every solid, liquid, gas, and plasma is composed of neutral or ionized atoms. The chemical properties of the atom are determined by the number of protons, in fact, by number and arrangement of electrons. The configuration of these electrons follows from the principles of quantum mechanics. The number of electrons in each element's electron shells, particularly the outermost valence shell, is the primary factor in determining its chemical bonding behavior. In the periodic table, the elements are listed in order of increasing atomic number Z.
It is the Pauli exclusion principle that requires the electrons in an atom to occupy different energy levels instead of them all condensing in the ground state. The ordering of the electrons in the ground state of multielectron atoms, starts with the lowest energy state (ground state) and moves progressively from there up the energy scale until each of the atom's electrons has been assigned a unique set of quantum numbers. This fact has key implications for the building up of the periodic table of elements.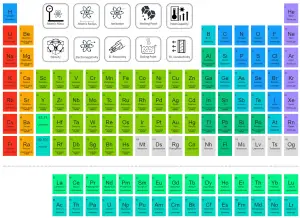 –