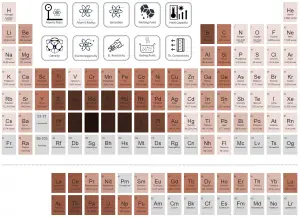 Osmium – Latent Heat of Vaporization
Latent Heat of Vaporization of Osmium is 746 kJ/mol.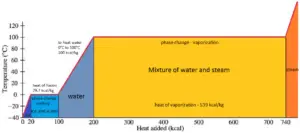 In general, when a material changes phase from solid to liquid, or from liquid to gas a certain amount of energy is involved in this change of phase. In case of liquid to gas phase change, this amount of energy is known as the enthalpy of vaporization, (symbol ∆Hvap; unit: J) also known as the (latent) heat of vaporization or heat of evaporation. As an example, see the figure, which descibes phase transitions of water.
Latent heat is the amount of heat added to or removed from a substance to produce a change in phase. This energy breaks down the intermolecular attractive forces, and also must provide the energy necessary to expand the gas (the pΔV work). When latent heat is added, no temperature change occurs. The enthalpy of vaporization is a function of the pressure at which that transformation takes place.
The temperature at which vaporization (boiling) starts to occur for a given pressure is also known as the saturation temperature and at this conditions a mixture of vapor and liquid can exist together. The liquid can be said to be saturated with thermal energy. Any addition of thermal energy results in a phase transition. At the boiling point the two phases of a substance, liquid and vapor, have identical free energies and therefore are equally likely to exist. Below the boiling point, the liquid is the more stable state of the two, whereas above the gaseous form is preferred.

–